Laurie and David Novak almost missed out on a totally awesome pair of kids.
When they welcomed in a 17-month old toddler and her 2-month old baby brother, they weren't novice foster parents.  They had been fostering for four years in Tennessee.  Lexi, the toddler, arrived with a bandage on her leg, but Laurie and David didn't realize that they were taking in two children with brittle bone disease, a condition that weakens bones and leads to many broken bones.  After a few months of emergency room visits and tearful children, they called the social worker to say they wanted to have the kids moved to another foster home.  It was so hard to parent kids with medical needs!  But they changed their minds after they learned how desperately these children needed homes.
Fast forward a few years.  They chose to adopt this wonderful sibling set.  Fast forward another few years.  The itty bitty baby brother went on to be famous child star "Kid President" on the Internet.
Robby Novak, aka "Kid President," has a message for the world.  In a nutshell, its "be awesome."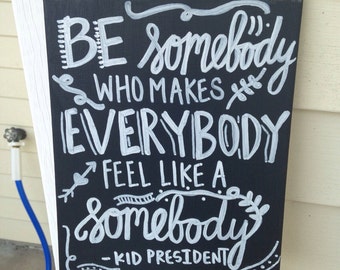 Kid President has helped clothe the homeless, inspired people to be nice, helped provide over 1 million meals to hungry kids, and built a playground.  He's won numerous awards, met President Obama and many other famous people, and has published a book.
I'm sure that Laurie and David Novak are happy about their decision to keep fostering and eventually adopt Lexi and Robby.  And I bet it isn't because Robby is famous, but because the duo are lovable, fun, and inspiring kiddos.
So when you feel like throwing in the towel, take a deep breath.  Reach out to family, friends, other foster parents, church friends… whoever is your support network.  Call your agency and ask about respite, in-home services, and other ways to make fostering a bit easier.  See if there is a way to work it out.
As Kid President says, let's be more awesome.
Read a full article They truly have unbreakable spirits by the Christian Chronicle.